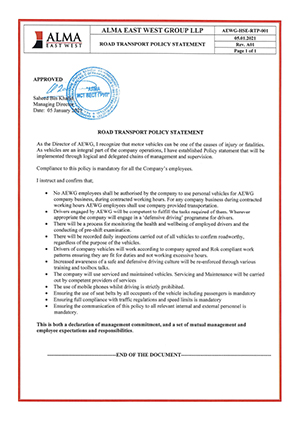 As the Director of AEWG, I recognize that motor vehicles can be one of the causes of injury or fatalities. As vehicles are an integral part of the company operations, I have established Policy statement that will be implemented through logical and delegated chains of management and supervision.
Compliance to this policy is mandatory for all the Company's employees.
I instruct and confirm that;
No AEWG employees shall be authorised by the company to use personal vehicles for AEWG company business, during contracted working hours. For any company business during contracted working hours AEWG employees shall use company provided transportation.
Drivers engaged by AEWG will be competent to fulfill the tasks required of them. Wherever appropriate the company will engage in a 'defensive driving' programme for drivers.
There will be a process for monitoring the health and wellbeing of employed drivers and the conducting of pre-shift examination.
There will be recorded daily inspections carried out of all vehicles to confirm roadworthy, regardless of the purpose of the vehicles.
Drivers of company vehicles will work according to company agreed and Rok compliant work patterns ensuring they are fit for duties and not working excessive hours.
Increased awareness of a safe and defensive driving culture will be re-enforced through various training and toolbox talks.
The company will use serviced and maintained vehicles. Servicing and Maintenance will be carried out by competent providers of services
The use of mobile phones whilst driving is strictly prohibited.
Ensuring the use of seat belts by all occupants of the vehicle including passengers is mandatory
Ensuring full compliance with traffic regulations and speed limits is mandatory
Ensuring the communication of this policy to all relevant internal and external personnel is mandatory.
This is both a declaration of management commitment, and a set of mutual management and employee expectations and responsibilities.