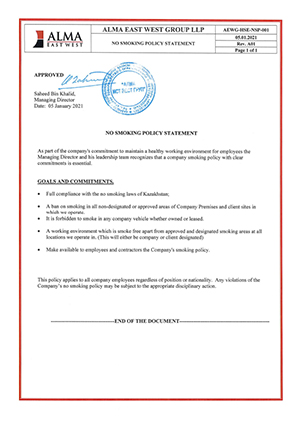 As part of the company's commitment to maintain a healthy working environment for employees the Managing Director and his leadership team recognizes that a company smoking policy with clear commitments is essential.
Goals and commitments.
Full compliance with the no smoking laws of Kazakhstan;
A ban on smoking in all non-designated or approved areas of Company Premises and client sites in which we operate.
It is forbidden to smoke in any company vehicle whether owned or leased.
A working environment which is smoke free apart from approved and designated smoking areas at all locations we operate in. (This will either be company or client designated)
Make available to employees and contractors the Company's smoking policy.
This policy applies to all company employees regardless of position or nationality. Any violations of the Company's no smoking policy may be subject to the appropriate disciplinary action.