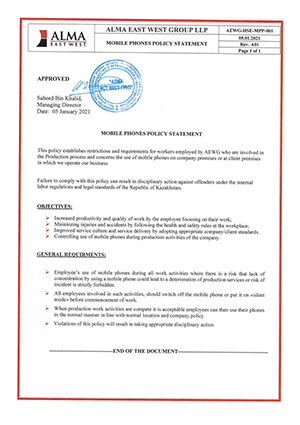 This policy establishes restrictions and requirements for workers employed by AEWG who are involved in the Production process and concerns the use of mobile phones on company premises or at client premises in which we operate our business
Failure to comply with this policy can result in disciplinary action against offenders under the internal labor regulations and legal standards of the Republic of Kazakhstan.
objectives:
Increased productivityand quality of workbythe employeefocusingon their work;
Minimizing injuries andaccidentsby following the health and safety rulesat the workplace;
Improvedservice culture andservice delivery by adopting appropriate company/client standards.
Controlling use of mobile phones during production activities of the company.
General requirments:
Employee's use of mobile phonesduring all work activities where there is a risk that lack of concentration by using a mobile phone could lead to a deterioration of production services or risk of incident is strictly forbidden.
All employees involved in such activities, should switch off the mobilephone orput it on «silent mode» before commencement of work.
When production work activities are compete it is acceptable employees can then use their phones in the normal manner in line with normal location and company policy
Violations of this policy will result in taking appropriate disciplinary action.